​​Dental Hygiene Milton Keynes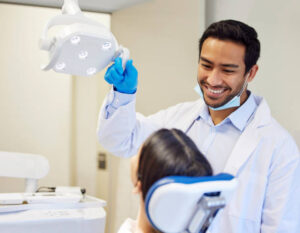 Good oral hygiene prevents plaque and tartar from developing on the teeth which can lead to tooth decay, cavities, and fillings. The two most common reasons for tooth loss are tooth decay and gum disease. It is common for patients to ignore bleeding gums, but this is an early sign of gum disease. Preventative care can stop tooth loss later in life and it is never too early to start. Regular check-ups with a dental hygienist can help you maintain good oral health. The dental hygienist will clean your teeth in a caring, professional manner, removing built-up plaque and tartar, which can cause bad breath, discolouration, and tooth decay. Hygiene plays an important role in maintaining your oral health, and one of the best ways to take care of your teeth and gums is through regular dental hygiene appointments. Luckily, Woburn Sands Dental Practice offers dental hygiene tips that can help you keep your mouth healthy between visits with our dentist in Milton Keynes. 
Why Dental Hygiene Is Important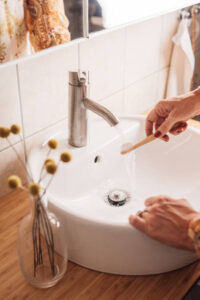 The importance of dental hygiene in maintaining oral health is that it reduces your risk of developing tooth decay and gum disease. Both tooth decay and gum disease have serious implications for oral health when left untreated. The symptoms they produce can be painful and unsightly. Regular brushing and flossing are important for keeping your teeth and gums healthy. But sometimes, even with the best at-home care, you need professional help to remove tartar buildup and keep your smile looking its best. That's where we come in! At Woburn Sands Dental Practice in Milton Keynes, we offer a variety of dental hygiene services to help you maintain a healthy mouth.
Promoting Good Dental Hygiene
There are many ways to ensure your mouth, teeth and gums remain healthy.
Brush twice a day with a fluoride toothpaste
Rinse with mouthwash
Floss at least once a day
Maintain a balanced diet
See a dental hygienist at intervals suggested by your dentist in Milton Keynes.
We will be happy to answer any queries you may have regarding your oral health. We are proud and fortunate to have one of the only accredited oral health educators in the area as a valued member of our professional team. Contact us today to book your appointment. 
What Does A Hygienist Do?
Often referred to as a dental hygienist, a hygienist is a dentist who specialises in oral care, including cleanings and preventative advice. Having your teeth professionally cleaned will prevent cavities and gum diseases you may have missed. The hygienist uses ultrasonic tools to clean your teeth, in addition to dental scaling when necessary. 
Dental Hygienist Procedure Milton Keynes
Dentists perform oral health assessments, evaluating the current health of your teeth and gums. Here is a brief list of their duties:
Our dental hygienist will review the patient's medical history, and check their blood pressure and pulse.
Our hygienist will use ultrasound tools to remove plaque and tartar.
Our dentist will polish your teeth and may use fluoride to prevent tooth decay.
Our dentist will perform an x-ray.
We may advise you and teach you oral hygiene skills to improve your oral health.
Dental impressions can be taken to produce models of teeth so that we can evaluate what our patient needs.
A dentist can provide advanced care in some cases, such as administering topical anaesthesia or applying sealants to prevent dental decay.
How Often Should You Brush Your Teeth?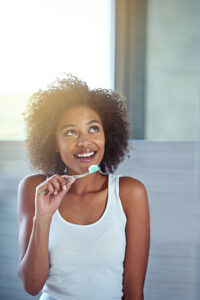 You should brush your teeth at least twice a day, and floss at least once a day. If you have trouble remembering to brush, set an alarm on your phone or keep your toothbrush in plain sight. 
We recommend using a soft-bristled toothbrush, as they are gentle on your gums and effective at removing plaque. Flossing is also an important part of oral hygiene, and there are a few different ways to do it. The most important thing is to be gentle so you don't damage your gums. Start by wrapping the floss around your middle finger and holding it tight. Then, use your index finger to guide the floss between your teeth. Be sure to go below the gum line and use a back-and-forth motion to remove plaque and bacteria. If you have any questions about which toothbrush is right for you or any other dental questions, please don't hesitate to contact us.
How to Brush – Tips by Dental Hygienist
The Benefits Of Visiting A Hygienist Regularly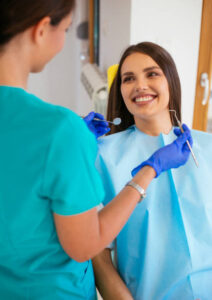 There are many important benefits to visiting a dentist or hygienist regularly. 
Here are a few:
Deep cleaning, scale and polish
To prevent cavities
To prevent gum disease
To prevent tooth loss
Educating patients 
Periodontal therapies 
Eradicate bad breath
Improves your smile and confidence 
Fewer dentist visits 
Dietary advice and toothbrush instruction
A hygienist can provide routine treatment for gum disease if you are experiencing symptoms such as bleeding gums, loose teeth, bad breath or a change in your bite that you don't think is normal. If you are concerned about your dental hygiene book an appointment with our hygienists today! 
How Often Should You See A Hygienist?
You may see a hygienist every three to six months. The frequency of appointments will vary depending on your oral health and other factors, such as how comfortable you are with your dental team and their approach to care. If a hygienist cannot clean all areas of your mouth in one appointment, they might offer to schedule another appointment to clean your teeth or your gums. Give Woburn Sands Dental Practice a call today to get started. 
Come and take a look at our treatments, if you are looking to improve your smile, click here for an appointment or by calling 01908 611478.
Is The Hygiene Treatment Painful?
It is safe for both adults and children and more likely to make you feel a slight discomfort than pain. It's important to floss before you see your dental hygienist so that there is less of a build-up of food and grime between your teeth and the mouth. This way, your dental appointment will go much more smoothly and there won't be any additional treatment to maintain your dental health. If you are worried about the sensitivity of your teeth, talk to your dentist or hygienist about applying some numbing gel on them before cleaning.
Can Hygienists Do Fillings?
Dental hygienists are trained to perform basic scale and polish, as well as more detailed gum disease treatment or fillings if necessary. We hope this information will assist you in choosing the appropriate course of action. Calling a professional for a good scrub can turn your mood around and leave you with a gleaming smile!
I Have Sensitive Teeth, What Can I Do?
You can try using toothpaste that's specially designed for sensitive teeth. Take a pea-sized amount of toothpaste and apply it to the sensitive area before going to bed as it helps protect the teeth's surface.
Come and take a look at our treaments, if you are looking to improve your smile, click here for an appointment or by calling 01908 611478
Back to Hygiene/Therapists