Dentist Cranfield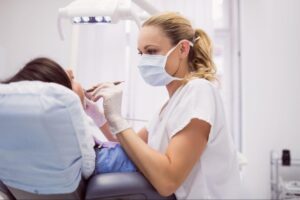 Welcome to Wilson House Dental Practice! If you are from Cranfield, an attractive town in Bedfordshire, we have plenty of dental treatments for you to meet the needs of our patients. Our treatments include Invisalign, dentures, dental bridges, dental crowns, dental implants, fillings, root canal treatment, tooth extractions and much more. We are committed to providing quality care and giving our patients the best experience possible. With us, you can trust that you will be in good hands!
BOOK AN APPOINTMENT TODAY TO GET STARTED
Invisalign Cranfield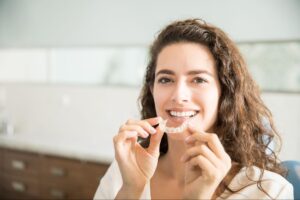 Are you considering straightening your teeth with Invisalign? Our dentists are experienced in delivering Invisalign treatments to give you a beautiful smile. We provide personalised Invisalign plans that are designed to meet your needs and provide optimal results.
Invisalign is a great way to straighten your teeth and fix any alignment issues without needing metal braces. Invisalign works by using a series of customised aligners that gradually shift your teeth into the correct position over time. They are comfortable and removable, so it's easier to maintain your oral hygiene routine.
If you would like to learn more about Invisalign or any other dental services offered at Wilson House Dental Practice, please contact us today! Our friendly staff will be more than happy to answer any questions you may have. Take a look at our patient's journey with Invisalign here. 
Dental Bridges Cranfield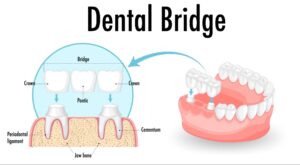 A dental bridge is a fixed restoration that replaces missing teeth by joining an artificial tooth to two crowns placed on the teeth adjacent to the gap. This creates a bridge, which spans the gap caused by the missing tooth and restores function and aesthetics.
Our team of qualified dentists and hygienists will take care to ensure that your bridge fits comfortably and aesthetically. You can be sure that your bridge will be crafted with precision, which is key to ensuring your long-term satisfaction.
Dental Crowns Cranfield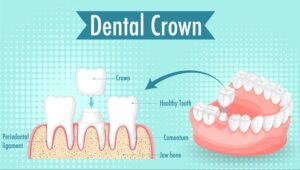 A dental crown is a restoration that covers the entire visible surface of a tooth and can be used to protect the remaining structure of a damaged tooth or improve its appearance. Our crowns are custom-made to match your teeth' natural shape, size, and colour.
If you are looking for a dental crown, please contact us today to learn more about the services we offer. We look forward to helping you achieve your smile goals!\
Dental Implants Cranfield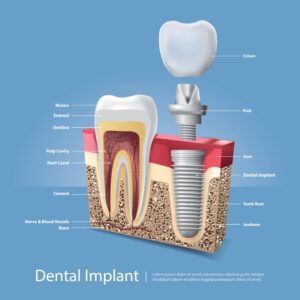 Whether you have missing teeth or damaged teeth that require replacement, dental implants can be an excellent solution for restoring your confidence and improving your oral health. Dental implants consist of a titanium post that is inserted into the jawbone, and a crown that is fitted to the post to replace the missing tooth. The result is a strong and secure restoration that looks and functions just like a natural tooth.
At Wilson House Dental Practice, we provide the highest quality dental implants, so you can rest assured that your new teeth will last for years to come. Our experienced team of professionals is dedicated to ensuring that your procedure is as comfortable and stress-free as possible and that you get the best possible outcome. So if you're looking for reliable dental implants in Cranfield, make an appointment with us today!
Teeth Whitening Cranfield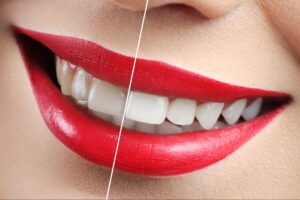 Invisalign is an innovative teeth straightening system that utilises clear aligners to gently guide your teeth into the desired position without the need for metal braces. 
The benefits of Invisalign are numerous. Firstly, as the aligners are made from clear plastic, they are virtually invisible when worn and so no one will know you're wearing them unless you tell them. Additionally, the aligners are removable, meaning you can take them out to eat, brush and floss your teeth, and for special occasions. The treatment also requires fewer visits to the dentist than traditional braces, making it more convenient. Furthermore, Invisalign has been proven to be faster and more effective than other traditional teeth straightening methods, allowing you to achieve your desired results in as little as 6 months!
We use the latest Invisalign whitening solutions so that you can achieve the smile you've always wanted without damaging your teeth. Contact us today to learn more about our teeth whitening services.
Dental Veneers Cranfield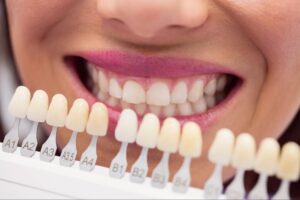 A dental veneer is a thin shell made of porcelain or composite resin bonded to the front of your tooth to improve its appearance. Veneers are used to address cosmetic issues such as chips, cracks, discolouration, gaps between teeth and misalignment. Thanks to the natural-looking porcelain material they are made of, they create a bright, aesthetically pleasing look that is designed to last for many years with proper care and maintenance. In addition to improving the appearance of your teeth, dental veneers can also help protect them from further damage. The porcelain material provides an additional layer of protection for your teeth against staining agents and other environmental factors. This makes them a great choice for those looking to enhance their smile without having to worry about future discolouration.
If you're considering dental veneers in Cranfield, visit Wilson House Dental Practice for a consultation. Our experienced team of dentists can help you achieve your desired smile in no time!
General Dentistry Cranfield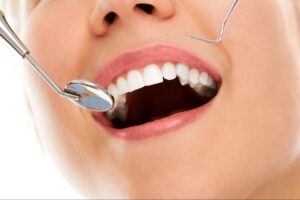 Our experienced team of dentists is dedicated to providing you with comprehensive care and excellent results. Whether you need a simple filling or a more complex treatment like Invisalign or dental implants, our expert team can help you achieve the smile you desire.
We understand that dental treatments can be intimidating and so we make sure to make you as comfortable as possible during your appointment. We take the time to listen to your concerns and explain the process step by step. Our goal is to ensure that you receive the best treatment possible while feeling safe and at ease.
At Wilson House Dental Practice, we strive to provide the most effective treatments in a safe and comfortable environment. Visit us today and experience the difference that quality general dentistry can make in your life!
Come and take a look at our treaments, if you are looking to improve your smile, click here for an appointment or by calling 01908 611478
Back to Treatment