Dental Bridges Milton Keynes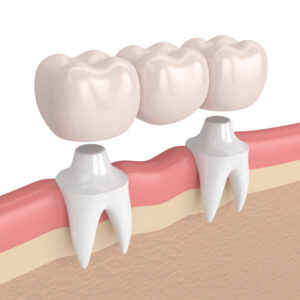 Dental bridges are a long-lasting and reliable solution for missing teeth supported either by your natural teeth or dental implants. They are usually made of ceramic or porcelain and are supported by the two teeth on either side of the gap where your tooth is missing. In some cases, you may require several dental bridges to replace all of your missing teeth, although this will depend on the severity of your loss and the position of your remaining teeth. 
Call Wilson House Dental Practice in Milton Keynes today to find out more about dental bridges and how they can benefit you!
When May You Need A Dental Bridge?
Dental bridges are an option for missing teeth as opposed to a partial denture or dental implant. Important aspects of using this method are preventing remaining teeth from drifting into the empty space and restoring the appearance of your smile.
You can care for your dental bridge by:
Brushing your teeth twice a day
Flossing daily
Cleaning under your bridge
Using an antiseptic mouthwash
The Benefits Of A Dental Bridge
Here are a few benefits of getting a dental bridge: 
Improved speech and pronunciation
Restoration of your bite
A renewed smile
It improves the look of your smile by restoring your natural smile shape
Your dental bridge can last between 5 to 15 years depending on your oral hygiene
A range of materials available including gold, porcelain and zirconia
They look almost as natural as your existing teeth
How Long Does It Take For A Dental Bridge To Settle?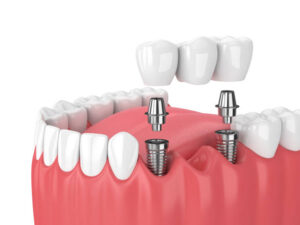 You can expect a dental bridge to fully settle after three to four months, depending on the level of your daily activity and the health of your bones. Patients with high bone density or who exercise vigorously may need a longer treatment plan. In that case, be patient on your treatment schedule to avoid hurting your gums or tooth roots over time.
You can speed up settling by avoiding eating hard foods. It also depends on how well your dentist follows through with each step, and how long you have to wear them (if they're permanent).
Temporary Dental Bridge Vs Permanent Bridge
You may want to consider a removable dental bridge for your case since it's often less expensive and you'll need to come in for routine maintenance every 6 months. Both the front and back teeth can be dealt with by dental bridges, so there will be no lopsided appearance. With both options, bridges offer patients a new degree of confidence in themselves, as well as the ability to eat, smile, and live more comfortably.
How Do You Clean A Dental Bridge?
Clean your bridge as well as you can by rinsing it with warm water after every meal or before brushing your teeth, then thoroughly brushing it. In addition to visiting your dentist regularly for checkups and professional cleanings, it is beneficial to use antibacterial mouthwash between visits. Mouthwash should be used twice a day for 10 seconds each time you rinse, and you should see your dentist if you notice cracks or chips on your dental bridge, since these can be repaired during regular visits.
How Long Does A Bridge Last?
Depending on the material and type of wear, dental bridges can last anywhere from five to seven years. There are many types of materials that can be used with dental bridges, all of which are more durable than veneers or crowns. If you take good care of your dental hygiene and visit your dentist, for instance, it may take a longer time for your bridge to need repair.
What Are Dental Bridges Made Of?
Often, bridges are made of porcelain that has been glued to a metal. Occasionally, other types of metal are used in the base for stability. New bridges will also be made from a stronger material than the previous ones.
How Do I Care For A Dental Bridge?
When getting a dental bridge, you'll want to keep your remaining teeth healthy because the success of the bridge depends on the solid foundation offered by the surrounding teeth. Brushing twice a day and flossing daily will help you keep the cavity and gum disease at bay. A dentist or dental hygienist can demonstrate the proper technique for brushing and flossing teeth, which will aid in early diagnosis and easier treatment.
Come and take a look at our treaments, if you are looking to improve your smile, click here for an appointment or by calling 01908 611478
Back to General Dentistry