Root Canal Treatment Milton Keynes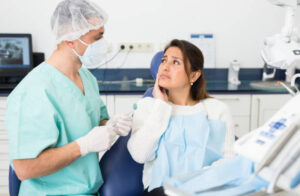 A toothache can be one of the worst things to endure, especially if it's an issue with your tooth that's bothering you. This discomfort can be caused by several dental problems, ranging from cavities to cracked or broken teeth and even impacted teeth (teeth that are in such bad positions that they can't come in naturally). One of the most common causes of tooth pain is the presence of an infected tooth – if this is what you're dealing with, or the above we recommend you consider our root canal treatment services at Wilson House Dental Practice in Milton Keynes!
Signs You Require A Root Canal:
Chipped or cracked teeth
Repeated dental procedures on the same tooth
An untreated cavity can cause deep decay in the tooth
Injury to the tooth (getting hit in the mouth can damage the pulp – which is at the centre of your tooth)
Pain in your tooth
Swelling
The Process Of Getting A Root Canal Procedure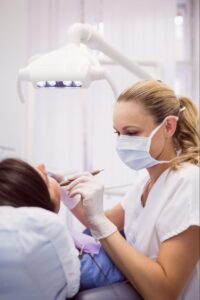 STEP 1: The Dentist will apply a numbing cream on your gum and the affected area to numb the pain from the local anaesthetic. 
STEP 2: The dentist will cut a hole in the top of the tooth, removing the inflamed or damaged pulp. Special tools, known as files, will be used for this purpose. As an extra measure of caution, they'll clean out the passages (canals) in your teeth.
STEP 3: After the pulp has been removed, the dentist may apply a topical antibiotic to the area to keep it clean and healthy. Once the canals have been cleaned and disinfected, the dentist will then fill and seal the tooth with a sealer paste. They may also give you an oral antibiotic.
STEP 4: At the end of the procedure, the dentist will insert material with a temporary hardness that closes the cavity at the top of the tooth. This sealant will be damaged by saliva and its primary function is to avoid exposing the dental canal.
How Long Does The Root Canal Treatment Take?
A root canal usually takes 30 to 60 minutes to perform. More complex cases may take 90 minutes to complete. Usually, a root canal requires one or two appointments.
What Happens If I Delay Root Canal Treatment?
If you postpone root canal treatment, the localised oral infection will keep growing worse and might even lead to an infection called septicemia—when the infection from your tooth spreads throughout your body. In other words, you should not wait any longer to have this procedure.
What Are The Symptoms Of Endodontic Disease?
Signs of endodontic disease include: discoloured teeth, fractured teeth with exposed pulp, increased pain when chewing, avoidance of holding objects in the mouth, drooling, and sensitivity.
Come and take a look at our treaments, if you are looking to improve your smile, click here for an appointment or by calling 01908 611478
Back to General Dentistry