Mouth Cancer Screening Milton Keynes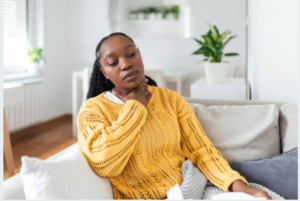 Do you know the signs of mouth cancer? Mouth cancer screening in Milton Keynes can help detect mouth cancer at its earliest stages. 
Mouth cancer, also known as oral cancer, can affect any part of the mouth, tongue or throat. The symptoms include sores that do not heal, lumps or swellings, changes in the colour of the mouth or tongue, white or red patches, bleeding from the mouth or difficulty swallowing. That's why it's so important to be aware of how to detect and prevent mouth cancer, and why regular mouth cancer screening is so vital. 
If you're worried about your risk of mouth cancer, you should consider having a screening done with our dentist at least once every 3 years (preferably more often). At Wilson House Dental Practice in Milton Keynes, we have the tools to effectively and comfortably screen your entire mouth so that you know if anything suspicious is present in your mouth. Learn more about how to detect mouth cancer and get a comprehensive mouth cancer screening at Wilson House Dental Practice today!
What Is Mouth Cancer?
Mouth cancer, also known as oral cancer, is a type of cancer that develops in the tissues of the mouth. It can affect any part of the mouth, including the lips, gums, tongue, and roof of the mouth. Mouth cancer is more common in men than women, and the risk increases with age. If you're concerned about mouth cancer, contact us at Wilson House Dental Practice for a screening. We're dedicated to providing quality dental care and diagnosing patients when they have something wrong.
Mouth Cancer Screening Procedure
Our dentists can examine your oral cavity for signs of cancer during your regular examination to give you peace of mind.
Mouth cancer screening consists of a visual examination followed by a physical examination. They will look at your teeth, gums, and the inside of your mouth.
The physical exam will require your dentist to feel around your face, neck and mouth to check for any lumps or nodules. Your dentist may use a special device to inspect your mouth. These devices allow the dentist to closely examine your teeth and the inside of your cheeks and gums for any signs of cancer.
How To Spot Mouth Cancer
Signs and symptoms of mouth cancer can include:
Lips, tongue, or mouth developing lumps
Have patches of red or white in your mouth or on your tongue?
Numbness of the lips or mouth
Ulcers and sores that don't heal in less than two weeks
Mouth cancer is most common in people over 60, but it can occur at any age. Symptoms include lumps on the mouth, lips or tongue, red or white lesions or soreness in the mouth or throat. Drinking alcohol and using tobacco products like cigarettes, cigars and chewing tobacco can increase your risk of developing mouth cancer.
Taking Action On Mouth Cancer 
There is no proven way to prevent mouth cancer, but you can reduce your risk by:
Tobacco use is bad for your health. Don't start or stop using it. Do not use tobacco if you do not use it already. Smoking and chewing tobacco can expose you to cancer-causing chemicals.
Alcohol only in moderation, if at all. Overuse of alcohol has been known to irritate the cells in your mouth, leaving them open to mouth cancer. If you choose to drink alcohol, consume it responsibly. For healthy adults, this means that women can have up to one drink per day at any age, and men older than 65 can have up to two drinks per day, and men younger than 65 can have up to three drinks per day.
You should avoid excessive exposure to the sun on your lips. Stay out of the sun when possible to protect the lips. Make sure you wear a broad-brimmed hat that shades your entire face, including your mouth. Make sure to put a sunscreen lip product in your sun protection routine.
See your dentist on a regular basis. Ask your dentist to conduct a thorough exam during each visit, checking your mouth for abnormal areas that may be cancerous or developing into cancer.
Causes Of Mouth Cancer
Mouth cancers form when cells on the lips or in the mouth undergo DNA mutations. A cell's DNA contains the instructions that tell the cell what to do. When healthy cells are programmed to stop dividing, the altered cells continue to grow and divide, building up into a tumour. With time, they might spread and appear on other parts of the head or neck, as well as other areas of the body.
Most oral cancers begin in the thin, flat cells (squamous cells) that line your lips and the inside of your mouth. Squamous cell carcinomas are the most common type of mouth cancer. It's not exactly clear what causes mutations in squamous cells that lead to mouth cancer. But doctors have found factors that may contribute to the increased risk of mouth cancer.
Come and take a look at our treatments, if you are looking to improve your smile, click here for an appointment or by calling 01908 611478
Come and take a look at our treaments, if you are looking to improve your smile, click here for an appointment or by calling 01908 611478
Back to General Dentistry